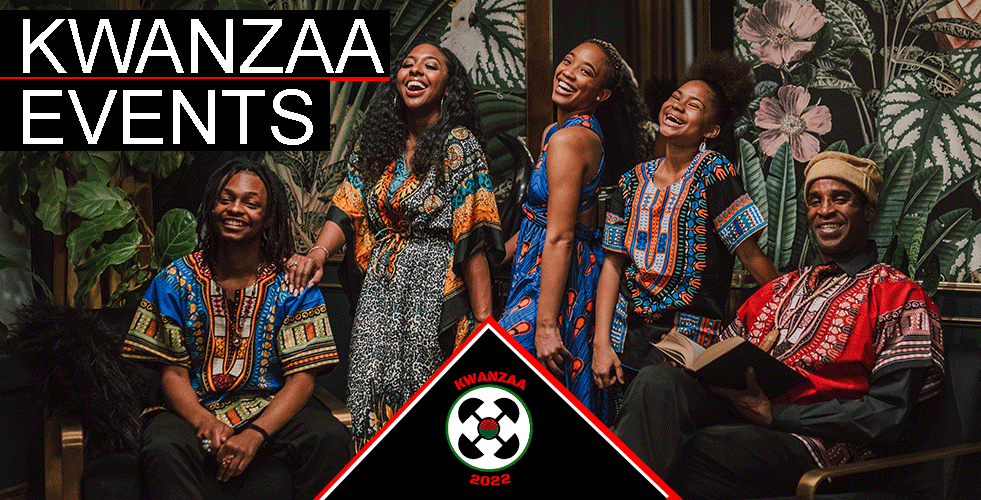 PRE- KWANZAA EVENTS
Saturday, December 17th
Pre-Kwanzaa Celebration by the Association of Black Social Workers.
310 Domer Ave., Laurel, MD 20707, Laurel Shopping Center. From 12:00 p.m. to 3:00 p.m.
Friday, December 23rd
A Winter Solstice Pre-Kwanzaa Whirlwind of Garveyism "We Exonerate Garvey" by the Government of UNIA-ACL RC2020.
Marcus Garvey Honor Society Graduation, New Africa Divisions Welcome, Government 2023 Vision Moving forward. This is a virtual presentation. Streaming Live at www.facebook.com/uniadivison330/ For further info call 202.256.2515 or 301.802.4022 From 6pm to 9pm.
---
KWANZAA EVENTS
UMOJA (UNITY ) MONDAY, DEC. 26th
THE ANNUAL UMOJA CANDLE-LIGHTING CEREMONY AND UMOJA CELEBRATION BY LCPAN.
Includes DuVal African Students Association dancers, Summayah Abdullah, spoken word, Double Dutch company, and more. Dinner Sales & African Marketplace. Location: Evangelical Lutheran Church of Our Redeemer, 1725 Michigan Ave, NE, Washington, DC (use entrance on 19th St, parking lot in back) Free admission. Call 202.529.3635. Program starts at 6:00pm. Doors open at 5:00pm.
---
KUJICHAGULIA (SELF-DETERMINATION) TUESDAY, DEC 27th
Kwanzaa Candle-lighting Virtual Celebration & Program by the Ausar Auset Society.
Kujichagulia Night theme: Increasing Our Knowledge and Strengthening Our Vitality Leads to Adherence to the Divine Law. This virtual event will feature Justice as it affects Africans, Generational wealth, Ra Qi Gong, Innerattainment,, children presentations, traditional Kwanzaa songs, and silent auction. Event Registration: https://tinyurl.com/AASdcKwanzaa2022 The program runs 7pm to 10pm.
---
UJIMA (COLLECTIVE WORK AND RESPONSIBILITY) WEDNESDAY, DEC 28
THE UJIMA JOINT Virtual Kwanzaa Event & Candle-lighting Service presented by House of Ra, Obi, Amenika the Great and Afi-Soul.
Tune in and Enjoy various forms of entertainment through Music (Hip-Hop/ R&B/ World/ & more), Dance, Spoken Word and Film! Zoom Meeting ID: 851 4196 4232. Password: ujimajoint https://us06web.zoom.us/j/85141964232?pwd=a0hXOTJFSWdURDN2NVFNaVJnd3NKdz09 Contact: 424-533-2868 or ujimaj[email protected] for more info. Time: 7pm (EST) / 4pm (PST) until!
---
UJAMAA (COOPERATIVE ECONOMICS) THURSDAY, DEC. 29th
The Annual Ujamaa Kwanzaa Candle-lighting Celebration & Program
Featuring children performances by Ujamaa Shule students, performances by the Ujamaa Dancers & Drummers, vegan food, and more. 1554 8th St, NW (8th & Q St. NW) Washington, DC. for info. Call 202.232.2997. Program at 7pm.
---
NIA (PURPOSE) FRIDAY, DEC. 30th
The Annual Kwanzaa Nia Night Celebration by the Official UNIA-ACL Woodson Banneker Jackson-Bey Division 330.
We will feature libations to the Ancestors, a candle-lighting ceremony, performances, African drumming and dancing, children project activities, and our ceremony honoring Marcus Mosiah Garvey Outstanding Community Service Awardees past and present. Admission is free, held at the Thurgood Marshall Center, 1816 12th St, NW Washington DC, For more info. call 202.529.3935 or 202.787.0251 From 6 to 10 pm.
---
KUUMBA (CREATIVITY) SATURDAY, DEC 31th
53rd Annual Kwanzaa Children's Party Theme
Kwanzaa 365!  children ages 3-12.  In person location: Evangelical Lutheran Church of Our Redeemer, 1725 Michigan Ave, NE, Washington, DC (use entrance on 19th St, parking lot in back) Sponsored by the Kwanzaa Children's Party Committee, ABEN, African Freedom Fund, DC Kwanzaa Planning Committee, Black Seeds, UNITEES and H Street CDC. Featuring FaraFina Kan, Baba Bomani with Olu and DeLa.  Activities will include Libation, Candle-lighting, Spoken Word, Storytelling, Youth Entrepreneurs, and Zawadi(gifts) and Refreshments. For further information please call 202.390.3164 or 240.832.7203. From 12:30 to 3:00 pm.
---
IMANI (FAITH) SUNDAY, JAN. 1st
Annual Free the Land Kwanzaa 3.1 – 5 Mile Fun Run/Walk/Bike at Lake Artemisia Park.
Located at Berwyn Rd. and 55th Ave., Greenbelt, MD. Make a healthy new start for the New Year! Bring the whole family! For more info. Contact: Baba Prince Kolani 202.520.4669 or [email protected]. Starts at 12 noon.
IMANI CELEBRATION AND AFRIKAN CONSCIOUSNESS AWARD PRESENTATION, CO-SPONSORED BY THE DC PAN-AFRIKAN COUNCIL OF ELDERS.
We will be honoring outstanding members of the next generation of leaders, carrying the torch of freedom in this century. Ancestral Altar by ADACI. Performances by Ka'Ba Soulsinger, the Malcolm X Drummers & Dancers and presentation of this year's Afrikan Consciousness Award to Brother W. Bruce Willis, distinguished artist. Finally, the prizes for the APPEAL Kwanzaa FlashMob Raffle will be presented. Let's close out this year's Kwanzaa celebration together on a positive upbeat note. Location: Roots PCS, 15 Kennedy St, NW, Washington DC. For more information please call 240.832.7203 or 202.529.3635. Starts at 6pm.
All events listed are FREE and Family Friendly